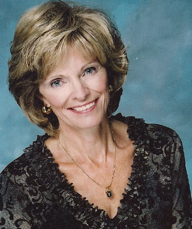 I was 45 years old when I stepped onto the campus of Colorado State University in Fort Collins as a non-traditional age student with a determined goal of a journalism degree.   The courses opened up an exciting world of knowledge to a stagnant but hungry mind.  First semester grades were posted in the administration building.  As student activity swirled around this grateful grandmother, I stood teary-eyed staring at the 4.0 GPA I'd earned.  It was the end of my second year when our three year old grandchild, Jessica, died of leukemia.
It was then that Larry and I packed up and headed to southern California to fulfill my dream of living at the water. We landed in Solana Beach, the perfect place to realize the dream come true. Stepping out with nothing but faith, we began our own electrical business.
It is here that I eventually continued my Colorado involvement in Stonecroft, an international, nondenominational, nonprofit ministry whose goal is to connect women with God, each other, and their communities "where she is, as she is."   I resumed speaking for the ministry, and became a devotional writer for their international publication, Progress magazine.  That experience inspired me to compile the devotionals, which over a period of years developed into the daily devotional, Views From the Water's Edge.  The success of the book, motivated me to write another daily devotional, Pebbles of Prayer and Ponderings.
I've always had a heart for women.  It is a joy for me to speak at women's groups, offering hope and inspiration to those, who like me have experienced grief, divorce, serious illness, and the wrenching upheaval of families dealing with alcoholism and drugs.  I long to connect with women and to tell of the powerful way God can intervene and bring hope to what can seem hopeless.
My husband, Larry and I are best friends. Now retired, we revel in the warm southern California sunshine, walks on the beach and time with family and time to travel. We have a blended family of five children, thirteen grandchildren and two great-grandchildren.