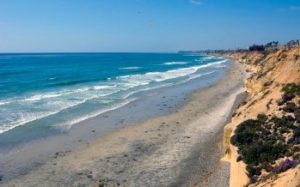 The Blue Pacific is awesomely beautiful and powerfully inviting. Everyone from the beach dweller to the occasional visitor is welcomed to her shores. The ocean is possessed by all yet owned by none.
Little did I dream that God would bring my husband, Larry, and me to this edge of the Pacific Ocean. With generous pleasure, He fulfilled my dream of living at the water's edge.
The first time I stepped onto the Solana Beach shore, I could not have imagined how important this strand of beach would become. I could not envision the hundreds of hours He would accompany me down the beach, and the lessons He would teach me along the way.
Here His Word has come alive for me. I feel His presence in the vibrant life of the sea and its surrounding environment. Rarely have I come away from time at the beach without some newfound inspiration. It is on these shores that I am content to reflect on people, events and things that have influenced my life. It is impossible for me to capture with a pen the sights and sounds of the mighty Pacific, but I have enjoyed the exercise.
One day He will take me home, and I will leave this water's edge. The vibrant life of the sea and all of its gifts will be left for others to discover. I pray that here too they will garner Pebbles of Prayer and Ponderings.